Set within the heart of the Sabi Sand Game Reserve, Notten's Bush Camp is an exclusively intimate retreat. The Lodge has been run by the Notten family for the past 20 years and is alive with the heart and soul of Africa.
At a Glance
6 Double rooms, Private Suites
En-suite bath, shower, toilet and hand-basin
Mosquito netting on windows and doors
Private viewing deck
Overhead fans
Open-plan lounge & dining area leading onto a wooden deck overlooking a vast plain and waterhole
Indoor lounge with large fireplace and fully stocked bar and wine cellar
Open air boma
Sparkling pool with open-plan pavilion
Massage Deck
Traditional bush breakfast, buffet high tea/lunch, three-course dinner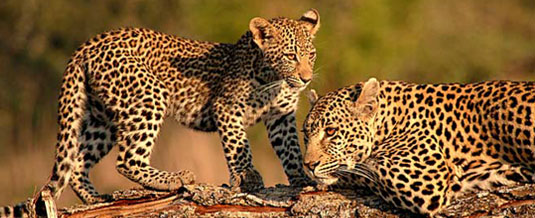 Accommodation
Each private suite is elegantly styled, spacious and cooled by ceiling fans. A magical atmosphere is created with the purposeful absence of electricity, and ambient candlelight and lanterns capture an enchanting spirit of romance. The rooms are all en suite, with mosquito netting on the windows and doors, and magical private viewing decks. With all the breathtaking panoramic views in this peaceful setting, relaxation is guaranteed.
Guests can also explore the regions prolific wildlife on safaris led by experienced rangers in open-top Land Rovers. Daily bush walks are available, and lazy hours at the sparkling pool are a must. Notten's prides itself in offering it's guests a phenomenal wildlife experience.
The mystical sounds of the African night sets the perfect mood for dining in the enchanting candlelit boma, beneath a canopy of stars.
The massage deck is an idealic, peaceful setting for relaxing therapeutic treatments. Other facilities include the indoor lounge with a large fire place, bar and wine cellar. The open-plan lounge and dining area leads onto a wooden deck overlooking a vast plain and waterhole.
With all the services on offer, guests find sanctity within the natural rhythms of Africa. From five-star cuisine, bathing by soft candlelight, massages and mesmerising nights around fires, to close encounters with Africa's big game – all in a luxurious environment, set in one of the worlds finest natural sanctuaries.
Boundless hospitality is the hallmark of Notten's, and the reason why visitors return again and again to the fine combination of peace, romance, and a touch of decadence – all in untamed Africa.
A Day in the Life
At sunrise, the day's excitement begins with a game drive led by an experienced ranger in an open-top Land Rover for an adventurous discovery of the region's prolific wildlife and 'Big Five'. Upon return, a hearty traditional bush breakfast awaits. Thereafter, daily walks are available followed by restful hours relaxing at the sparkling pool. The remainder of the day offers delicious meals, deep relaxation and massages, before heading out on an evening game drive to enjoy the fresh air and soak up the beautiful sunset. Returning at nightfall provides the perfect opportunity to see an abundance of secretive nocturnal creatures. Under the cloak of nightfall and the ambient sounds of the African night, dinner is served in the enchanting candlelit boma beneath a canopy of stars. A soothing aromatic bath afterwards is ideal to round off the day's activities.
Wildlife
The wide variety of game includes lion, leopard, rhino, elephant, buffalo, wild dog, cheetah, giraffe and over 350 bird species. The vegetation type is mixed Combretum, Marula and Acacia Thornveld.
Location
Situated in the Southern Sabi Sand Game Reserve, Mpumalanga. Neighbours: Mala Mala on Eastern boundary and Sabi Sabi on Western Boundary
Child policy
Children over 8 years old are welcome, unless the group is taking over the entire camp (min. 10 people).