Selati Camp premier accommodation, is the sumptuous and spacious Ivory Presidential Suite. It offers turn of the 19th century colonial grandeur in the form of original antiques, a draped four-poster bed, private terrace, and fireplace. The magnificent en-suite bathroom, complete with Persian carpet and antique chaise-longue, also features a very private pool. The separate dressing room features an antique wardrobe and dressing table. Selati combines turn of the century elegance with personalised safari luxury - a rare quality of life experience.
At a Glance
Boma
Dining veranda
Full Bar Facilities
Lodge swimming pool
Lounge
Telephone/Fax Facilities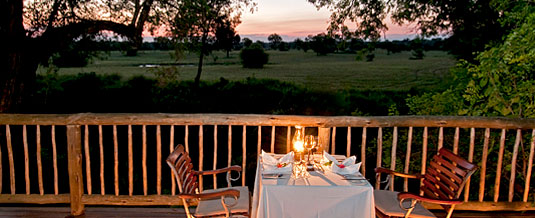 Activities
Southern Africa intrigues everyone who is lucky enough to experience its power and magic. The concept of 'Safari' conjures up images of adventure, thrilling landscapes and absorbing wildlife. The advantage of Sabi Sabi Safaris stems from the fact that animals on the Reserve have not been hunted for over half a century. Because they have become habituated, they perceive the outline of a vehicle carrying humans as non-threatening. Tourists can therefore look forward to the unique experience of being driven extraordinarily close to the large mammals which, despite being totally wild, continue unperturbed in their natural patterns of hunting, feeding, mating and suckling. Each morning and evening, Safaris in open Land Rovers drive through a wide variety of habitats, allowing you to view the vast interactions of the wild. After breakfast, guests on guided walking trails can experience the natural environment on foot. The dedicated, skilled and passionate Rangers lead you to discover miracles of Nature you may never have dreamed existed.
Morning Safari
A knock on your door from the Ranger will wake you before first light, while the kitchen brews hot coffee or tea, and prepares cool fruit juices with a muffin or rusk on the side.
Early morning is the time of day for bird choruses, and the rising sunlight dances off beads of dew on spiders' webs. The Tracker will watch the road for spoor, leaning forward intently to find any print left by a predator during its hunt in the dark. There may be hushed discussions in Tsonga between Ranger and Tracker, and brief radio interactions from one vehicle to another. Sharing information ensures that the occupants of each Land Rover have the best chance of a wide range of sightings - and also ensures control and responsible behaviour as vehicles move in close to the animals.
Morning Walk
You will be part of a small group that sets out on foot after breakfast. The walk is an opportunity to experience wild life at close quarters.Sabi Sabi boasts approximately 350 different species of birds. Their nests and calls are fascinating. There is an endless diversity of trees, shrubs and flowering plants, and whatever the time of year, no two walks are ever remotely the same.
Evening Safari
As the fierce heat of the day cools, animals move out of the shade of the trees, and birds increase the volume of their song. In the late afternoon, the call of the Crested Francolin reverberates through the Bushveld. You will be aware of colours softening to beautiful, gentle hues that vary with each season. New scents fill the air as the sun dips behind the horizon. The Ranger will choose a spot where you can stretch your legs and enjoy a sundowner alongside the vehicle. The dusk period tends to be quieter. There is a lull as the animals sense the transition into a time of increased danger. The nocturnal hunters start stirring, and their prey needs to be alert for survival through the night. If you are lucky, you may be able to watch a lion or his pride prepare for the evening hunt. Their long bodies stretch to ease muscles cramped from lying in the shade during the day; claws are sharpened and sinews lengthened against a tree; vegetation is marked with urine, and the wind sniffed for scents; only then do they set off in a slow, loose-jointed, arrogant amble.
Children's Policy
01 January 2013 - 31 December 2013
NO Children under 13 yrs.
Providing there is exclusivity of the lodge with family and / or friends children under 13 yrs may be allowed in camp. For a child Friendly Lodge please see
Sabi Sabi Bush Lodge
Providing there is exclusivity of either lodge with family and / or friends children may be allowed in these camps.
Children under the age of 6 years will Not be allowed on safaris.
Children between the age of 3 and 6 years may accompany their parents but restrictions at sightings due to possible disturbance to animals and/or guests on other vehicles may apply.
Babysitters can be arranged at a minimum rate of R70-00 per child per hour which is to be paid directly to the babysitter.
Babysitters are to be booked on arrival.
Selati Camp can accommodate 2 family rooms with a maximum of 2 children per room.
Children 13 years and older are considered adults.